5 Multifunctional Coffee Tables That Will Enhance Your Living Room
Are you looking for coffee tables for your home décor? A multifunctional coffee table is the most wonderful thing you can have in your drawing room. Earlier, there was not much space as you could only keep just your beverages on them. But now, there are numerous ways to use them. There are many sets of stunning coffee table sets that you can buy from the market.
There is a wide range of them, such as metal, wood, plastic, and glass. It becomes very challenging when you have lots of variety to choose from. Regarding design style and color tones, the designs of coffee tables vary from plain to sleek and contemporary. So, which one of them will be the best for you? This is the question that you must keep in your mind. Let's look at differentcoffee tables from which you can choose yours.
It is a modern 3 in one coffee table that is best for all parties and workplaces. The multi-functionality of this table makes it unique and stands out in your living room. Coffee tables are essential in an individual's life, but you can't call them coffee table if it does not look outstanding. These tables have many amazing features, and their lift-up design makes them ideal.
You can do any office-based work or have light meals on these tables as it can also be a dining table for 4 to 8 people. In addition, the table offers large areas to store your belongings like books, remote, magazines, and many more things. One can keep up to 100 pounds of weight in this multifunctional coffee table. So overall the table is very elegant and stylish you can use them for various purposes.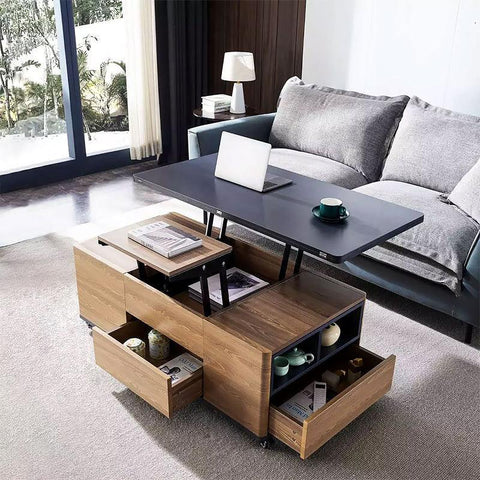 Pros                                                                                                                                                                
Multifunctional

Offers Attractive Looks

Space Saving Design With Small Dimensions

Light To Store Weighty Items Like Remote And Books.

Portable As It Comes With Lockable Wheels
Cons
Not Suitable For Heavy Loads Because Of Its Light Design
The round lift coffee table comes with a unique design as you can be very mesmerizing. You can lift the top table according to your height. The adjustable table is perfect for reading, writing, and drinking. The space under the table is amazing for you can keep your books and other stuff as it is a good space to utilize. This multifunction coffee table is stylish, very attractive, and portable in the living room.
You can use this table for different purposes like office, dining, or even as a coffee table. The lift-top is an attractive-looking coffee table that is available in many colors. It comes in three colors: white-walnut, white-black, and white-natural. These coffee tables are very attractive to take up with light colors as you can make your living room look more elegant.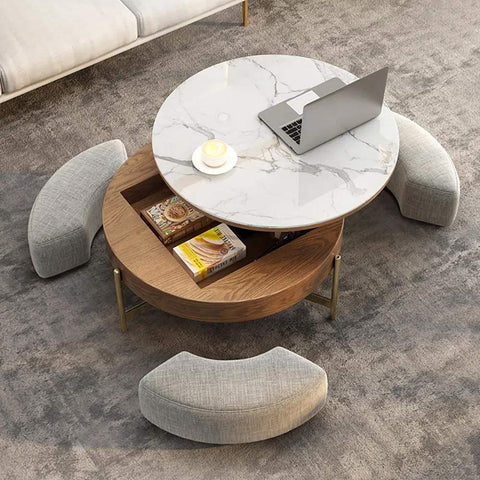 Pros
Portable And Easy To Move Around

Three Colors Finish Is Attractive

Very Fashionable & Unique.

Lift Design Is Ideal For Storage Purposes

Can Be Used For Different Purposes.
Cons
The Modern Round Lift Top enhances the beauty of your living room. This multifunction foldable coffee table is liftable as everybody wants a cool coffee table with many things. This is the ideal way to buy a coffee table with lots of space for various purposes. This table is small but can be optimized and adjusted in a large table. It has two large drawers as you can keep many things in that area.
You can store stuff like magazines, toys and much more. The table is made up of stainless steel and wood. Here you will also see that the round top is made of strong stone. It comes with a gold finish that makes this table more classy and stylish, and the other advantage is that you don't have any requirement of assembling the table.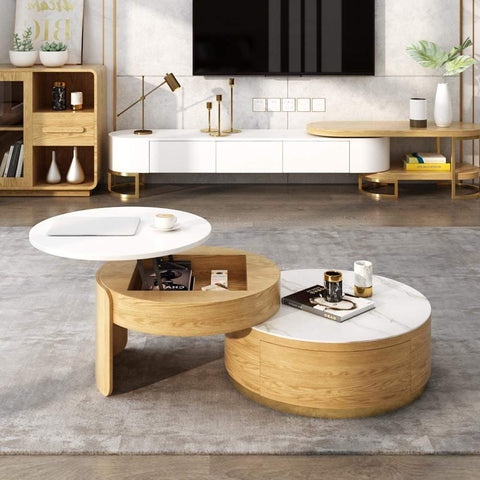 Pros
It Is A Multifunctional Table

Design Requires Less Space

Suitable For Small Spaces

No Requirement Of Assembling

Easy To Adjust Small Table Into Large And Vice Versa
Cons
Stone Top makes the table heavy
This beautiful design is available for people who have very simple tastes. It can be a great choice to enhance your home for different functions. However, you can use this multi functional coffee table as a dining table, storage table, and for other official purpose. The table has large storage space as you can add multiple things to this table. You will get two large storage with the secrete storage space also.
The table size is very good as it fits almost any height of people. You will be surprised to see that the table rises up and down. The table comprises MDF and metal, which come with amazing finishing. You will get this table in gray color, which is unique and requires assembling. When you buy this multifunctional coffee table, you can get the help of experts to assemble the table.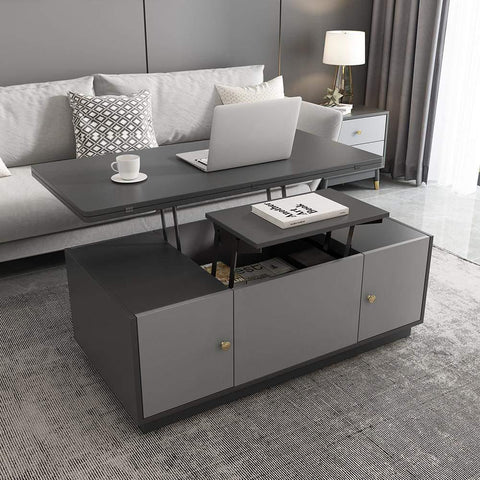 Pros
Suitable For Simple Style

Can Fit On Various Height People.

Excellent Storage Space

Easy To Maintain And Clean

Material Is Good And Durable
Cons
This coffee table with five pieces is great as a family table. It is very solid and can be used for various purposes. The multi-functional coffee table is so amazing that when you use it for a regular meal, you can also use it as a dining table. This table is very stylish and also comes with a unique design. It has many compartments where you can add various belongings to the table.
The perfect thing about this coffee table is that it includes storage space under the table. So not only the coffee table is multipurpose, but also the storage space of this table is multifunctional. You can have this coffee table for different purposes. Like as office meetings or small functions like dinner parties or movie nights with family. Overall it is a perfect table as you can use it in your living area and make it more elegant.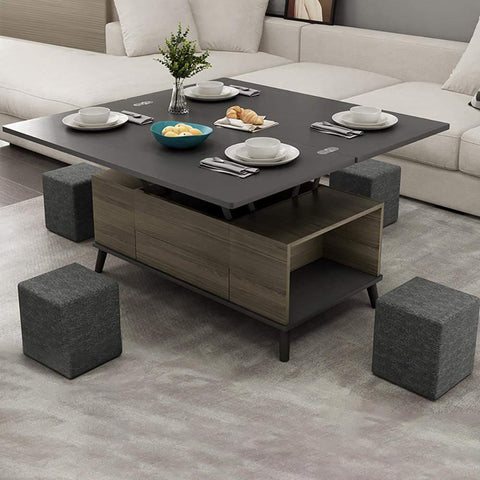 Pros
Colors Are Available

It can Be Used As A Dining Table

Great For Storage Purposes

Tray Top Is Adjustable

Elegant And Good Quality.
Cons
FAQs
#What are the tips to keep a wooden table clean?
You should use a good quality furniture polish if you do not have time to clean your beautiful wood top table. If you apply the furniture polish on your coffee table, ensure that you do that in an area where there is no dust and children are not allowed to play. This will ensure that the furniture polish does not leave any marks or streaks on your tabletop.
#Is it okay to have a coffee table?
Yes, it is okay to have a coffee table because it can serve many purposes, like a seat. This kind of furniture is best if you do not have enough space in your living area. In addition, you will be able to add more things to the table like books and other papers so that you can easily access them when needed.
#Would this table be expensive?
Yes, it would be expensive if you want to buy this high-quality multifunctional coffee table. These types of tables are not cheap; if you want an elegant and stylish coffee table, then it is best to buy a wooden or glass top. However, you can also buy a wooden or glass topped table for less price rather than buying one made up of metal or iron.
#What are the other uses of a coffee table?
As per the various designs available in the market nowadays, there are all types of coffee tables that you can buy. Some come in a shape of a trunk and even with wheels. This means you can use this table for playing or placing books and files. The multipurpose coffee tables are best if you have limited space in your living area.
#Can I keep my table outside?
Yes, you can place your coffee table outside if you want to entertain your guests outdoors. However, there is a risk that the weather can damage the top of your table. So it is best if you place an umbrella over the table, so rainwater or water does not get damaged. Also, it will ensure that your coffee table always remains protected and clean.
Conclusion
Coffee Tables are the most important part of our living room. We want that table to be stylish and elegant. Well, these are the best lift-top coffee table you can buy per your needs and wants. You have seen some of the best multi-use coffee tables that you can buy at an affordable price. So, your choice is great if you have visited any of these products. But, do not think too much; here are some right lift-top coffee tables you can buy for your home or office decor.