Dining Table Against The Wall - The Best Solution To Maximize Your Small Space
Inviting guests over can turn out to be a nightmare if you live in a small apartment or have limited living space. Even with ample space available, wrong furniture placement will unnecessarily eat u space and make your place seem smaller. A dining table against wall arrangement can create sufficient seating area, cough up extra movement space, and add to the overall appearance and aesthetic of the room. 
So, what type of dining tables should you choose, and how do you position them against your wall? 
Here's all you need to know!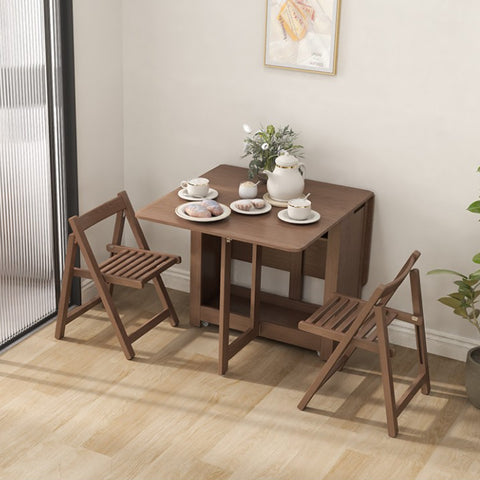 Choosing the Right Dining Tables
Start by picking dining table designs that you can arrange in different orientations and directions. The best bet here is to pick designs that come with foldable parts, extendable portions, or drop leaf designs. 
Foldable parts can convert your table into more space-saving orientations. Extendable parts give you the option of increasing dining area when you have extra guests. Drop leafs offer both these advantages, plus the option to change to look and appearance of your table if you get bored with a certain orientation. Getting these features in your table will allow you to easily arrange your dining table against wall. 
However, the main benefit with these designs is that you can alter their shape and size. So, placing them against a wall is both easy and convenient. 
Trying to push a single-piece kitchen table against wall never works out like you expect. These large tables will consume excessive space and they often take up a large portion of your wall too. With foldable designs, you can hand-pick the kind of dining table against wall style that you wish and envision. 
As demonstrated in the video, you can freely control your dining table to maximize your space.
Best Products for Dining Table Against Wall
59" Modern Gray Rectangular Dining Table Set
Available in two variants of gray, this 5-seater dining set will add allure and subtle colors to your kitchen or dining area. As a foldable set, the table can expand to 59" in length on full extension, and retract back to a space-saving design on command. 
While folded, this table barely equals the size of a small book shelf. Even in extension, the sides are straight and even enough to align with any wall surface. So, you can use it as a small kitchen table against wall, or open it up into a wide kitchen table that goes against the wall.  
63" Functional White Folding Table
Fans of clear, white designs may prefer this elegant table that comes with classy gold frames. The folds of this table are on either side of the center. This means you can unfold one side and push the flat side towards the wall. 
With a central storage system and clean metallic designs, this 63" can easily switch from being a half dining table against wall to a full dining table in the kitchen's center. 
Against the wall dining table ideas often compromise on size and dining capacity. But this 63" top ensures that you can easily host up to six friends on a wide kitchen table that goes against wall. 
57" Modern Solid Wood Table Set (Drop Leaf Design)
If your taste in furniture goes more towards old school wooden designs, this Solid Wood Table set may be the ideal choice. With a seating capacity of four guests and a handy drawer for storage, it has all the space-saving features meant for small apartments. 
As a comparatively small 57" unit, it's a popular choice for interior designers thinking of dining table against wall ideas. You can also store this dining room table against wall by folding it into a compact, rectangular box that neatly sits in any corner. 
Modern Extendable Dining Table with Wood Drop Leaf
This classy emerald-green table is a great choice for arrangements where you want a half round dining table against wall. Made of high-quality wood, this table's top comes with rounded edges in both sides. Each rounded edge can be pushed down as a drop leaf to conserve space. 
With one drop leaf pushed down, you can use it as an apartment dining table against wall that still retains a rounded edge on one side. Alternatively, you can push down both leaves and use the rectangular top in the center as an against the wall table. 
FAQs
How close can I push my dining table against wall?
You can push your dining room table against wall all the way to the surface. However, ensure that there is at least 35" to 40" on the remaining sides to allow chair-placement and movement of people.  
Can I position my dining table against window?
Yes. You can adjust a kitchen table that goes against wall to be adjacent or next to windows. Just ensure that it doesn't obstruct access to fresh air or window views. 
Where is the best position for a dining table against wall?
When deciding the position for an against the wall dining table, make sure there's enough space for placing chairs, moving of guests, and serving of food. This means the ideal position for a dining table against wall is in along a long wall with no other furniture items next to it.  
Can I place my dining table in the living room?
Yes. You can use an against the wall dining table in any living room if there's enough space. However, for compact apartments, it's more advisable to store and use the dining table in the kitchen. This is where foldable and extendable tables have the maximum advantage. 
Where can I buy dining tables that can be pushed against the wall?
Platforms like Wehomz are ideal places for sourcing compact tables that serve as dining tables against the wall. You can purchase designs that have drop leafs, extendable features, and expandable tops. These designs serve you by offering both the size for multiple guests as well as easy storage when folded.