How to Buy Multifunctional Coffee Tables: The Definitive Guide (2022)
Maybe you prefer to use your laptop on the coffee table without bending over, or maybe you just wish that you had more space to store your daily things. Here is when the magical multifunctional coffee tables come into play.
But buying one can be tricky. Among all these coffee tables with different functions, which one should you choose? This guide will tell you exactly what you need to know for shopping a perfect multifunctional coffee table.
Let's get right to it.
So, what is a multifunctional coffee table anyways?
It is a coffee table that can be extended and folded with a lifting mechanism. In short, you can transform it into different forms for various occasions. For example, it can be converted into a desk for a laptop or a large dining table.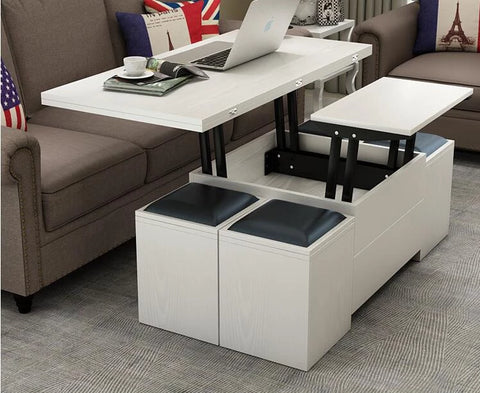 Also, this type of furniture always comes with extra storage space. It usually has drawers hidden under the lift top where you can put all the small items. In this way, you can easily keep your living room organized.
You might be wondering:
What's so special about this multifunctional coffee table? Is it worth the money?
The short answer is -- Totally!
Now, let's dive into its amazing advantages.
It's convenient
Imagine these scenarios:
You need to work on your laptop, but you just don't feel like getting out of the comfortable couch.
Or, you decide to enjoy your favorite TV show while eating dinner, but the food on the coffee table seems miles away, and you have to struggle to reach the plates.
What are you supposed to do?
In both cases, a convertible coffee table with multi-functions will make it much more convenient. A multifunctional lift-top coffee table can be your desk and your dining table.
All you have to do is to lift its top and adjust it to the height you need, and that's it. How simple is that!
More space & storage
If your living room has limited space, a multifunction foldable coffee table can change everything.
Let's say you have a few guests chilling in your living room, but your coffee table is not large enough to put all the food! And it is just awkward.
But with a liftable coffee table, you can easily extend it to a spacious surface. The truth is, this furniture shines in a small place. It has multiple drawers for extra storage and makes the best use of the space.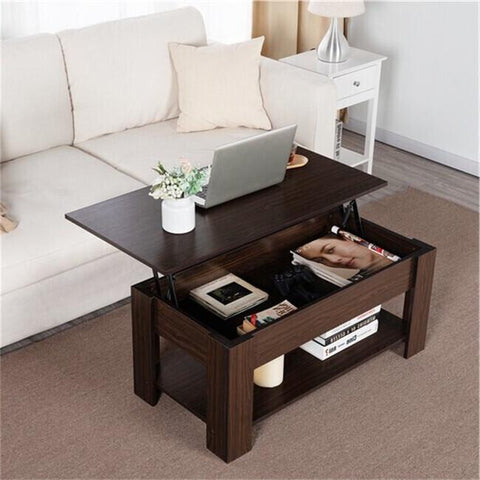 All-in-one design
Multifunctional coffee tables are becoming popular for their all-in-one design. Whether you love relaxing on the couch without having to move around to do stuff, or you need more storage for your snacks and magazines, a multifunction coffee table can perfectly fulfill all your needs.
It gets better:
You only have to pay for one piece and you can get a coffee table, a desk, and a dining table. It's an absolute bargain.
Types of multifunctional coffee tables
There are a variety of shapes for coffee tables, such as square, rectangular, oval, round, or hexagonal. The materials vary from wood and marble to metal.
It goes the same for multifunctional coffee tables. Yet, they come in different types and structures. Here are the most popular ones.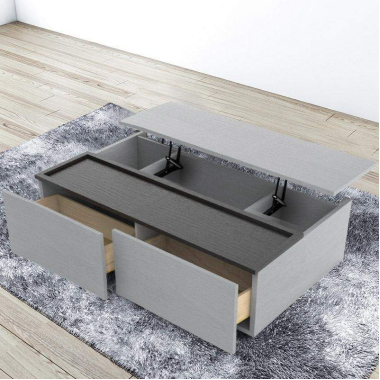 A lift-top coffee table is the best choice for decluttering your living room. With hidden compartments beneath the top, you can keep your tabletop tidy. The multifunctional lift-top coffee table is a perfect space saver.
3-in-1 coffee table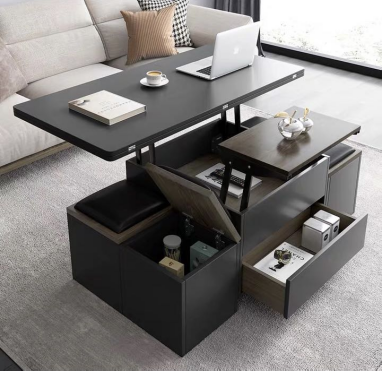 The 3-in-1 coffee tables are versatile and functional. They can be turned into a desk or a dining table when the shelves are fully extended. This awesome furniture is a whole package to make your life convenient.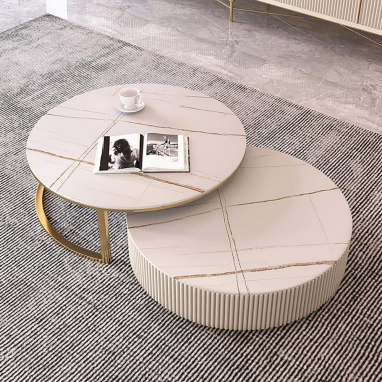 This type of coffee table can be used as a set or separately. When you are done with the smaller table, you just need to nudge it back below the larger one. With easy stacking, nesting coffee tables are ideal for space-saving.
How to choose a multifunctional coffee table?
Buying a coffee table is a big deal. It costs a fortune and will stick with you for a long time. Consider these things first. And you will find the multifunctional coffee table that suits your needs the best.
Space
Always check the space first. Measure the length between the sofa seats. Leave enough room for people to walk around without getting bruised.
What's more, you need to consider the height of the couch. Make sure you can comfortably use the table when it's lifted without having to reach.
Last but not least, if you go for a lift-top coffee table, remember to add the surface after it's extended to the calculation.
Demand
Think about what will be the main purposes of your coffee table. Does your living room look messy with all the things on the table? Go for a lift-top coffee table. Do you want to update the room style? A tiered coffee table might be the best for you.
Figure out what you mostly need the coffee table for, and then you can decide which type to buy.
Style
When adding a piece of furniture to the room, you should always remember to keep the style harmonious. Nowadays, there are a lot of choices for multifunctional coffee tables in styles, like modern, vintage, industrial, etc.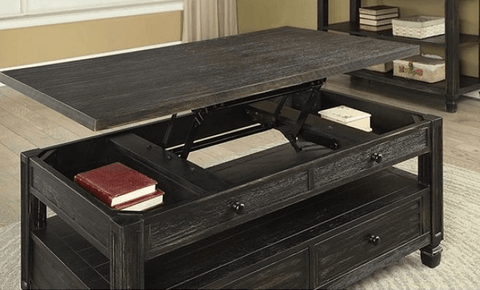 Just keep in mind that it should match the existing style of your living room.
Price
The cost of a multifunctional coffee table can go from $200 up to $1700. Its price mostly depends on the specific features and materials. A basic lift-top coffee table is usually cheaper than a 3-in-1 coffee table.
If you are not in urgent need of a new coffee table, it is a wise choice to shop during the holiday sales. End-of-the-year sales also offer great discounts on most products.
When it comes to shopping for a piece of furniture, local furniture stores might come to your mind first. But there are lots of great choices from retailers online too. Which way is better?
Shop in-store
In-store shopping offers the advantage of professional help from staff. Ask away if you are kind of iffy about the type of multifunction coffee table to choose.
Besides, you get to test the lift-up mechanism on site. It is always better to check its functionality and flexibility.
Shop online
One of the greatest things about shopping online is that you can sit comfortably on your sofa and take your time to browse. You can find high-quality liftable coffee tables from reputable retailers online. They often offer free shipping for furniture.
On shopping sites, sellers provide detailed descriptions and product pictures. So take a good look at it before making your final decision.
Also, it is easier to find items at affordable prices. So if your budget is limited, buying your table online is a good way to save money.
11 Best multifunctional coffee tables for you
Now!
We have selected 11 top foldable coffee tables with multi-functions for you. Check out these fabulous pieces at reasonable prices!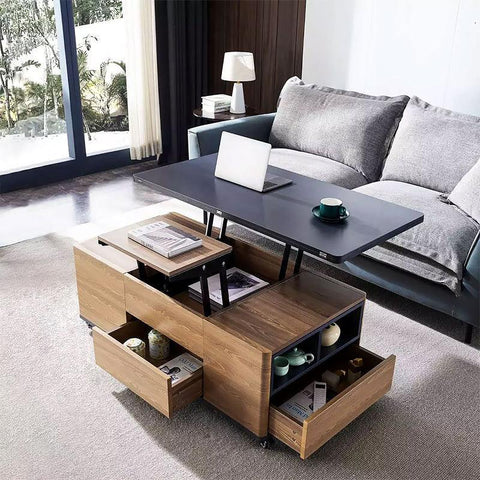 With adjustable shelves, this 3-in-1 coffee table can be transformed into a dining table or a desk. You will find it handy no matter when you're hanging out with friends in the living room or when you need to write something.
It also has 3 drawers for extra storage - a perfect way to keep your room tidy.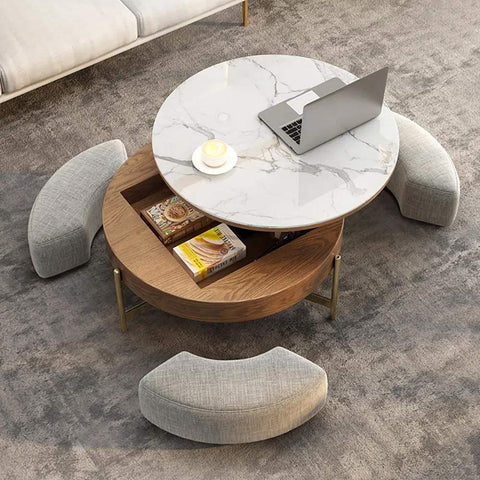 Featuring a lift-top design, this coffee table offers the benefits of a perfect writing table. You can put whatever you want in the hidden storage compartment without being visible.
Also, it comes with 3 ottomans for seating. And they can be stacked under the table to save space.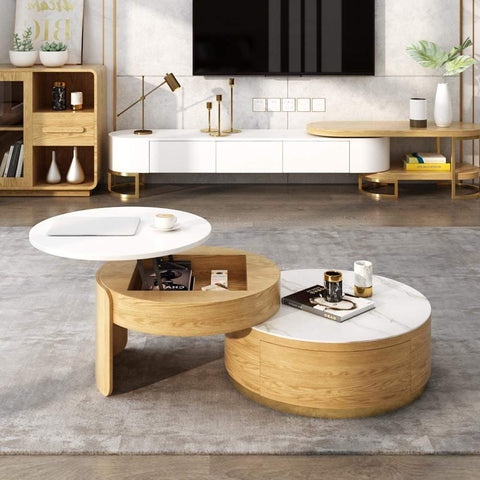 This nesting coffee table is a real space saver with its 2 drawers and extra storage. And you can stack the small table under the taller one.
Besides, its lift-top design allows you to easily adjust the tabletop to any height you need.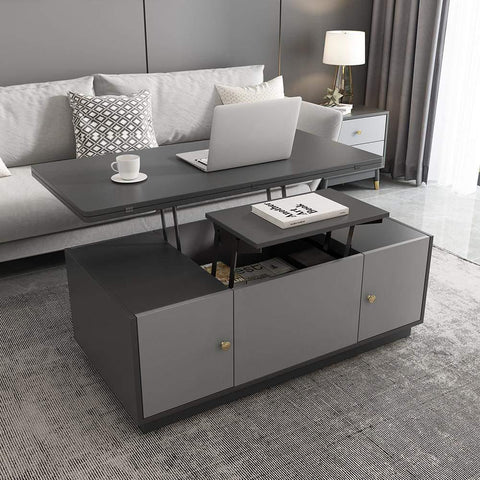 This versatile and functional 3-in-1 coffee table can bring you great convenience. Integrating a flexible lift-top mechanism, it can turn into a working place in no time.
Plus, the classic look of this coffee table can go well with any room style.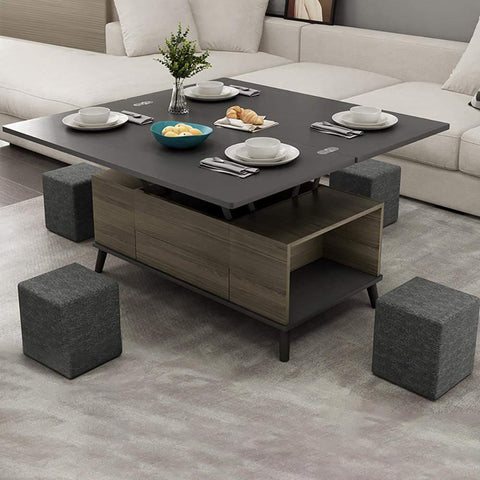 This multifunctional coffee table comes with multiple inner compartments and 4 ottomans. It is the best choice to keep keys, books, and other small items in place.
Its tray can be lifted for writing or dining. The wood construction of this table will update your living room style with elegance.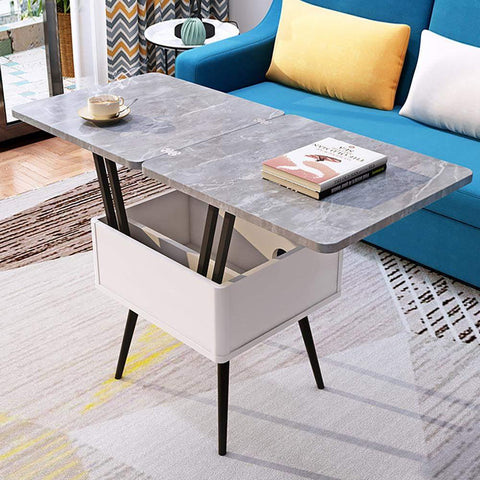 Featuring a lift-top design, this piece provides ample storage space underneath the top. When it's fully extended, it can be converted into a dining table.
With an MDF tabletop and a carbon steel base, its modern style will add an accent to your house.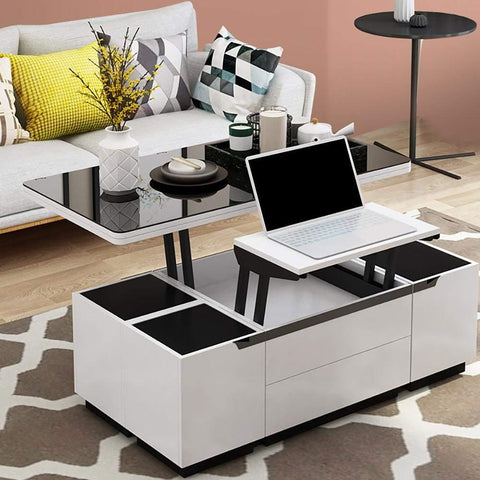 This foldable coffee table has a contemporary feeling with its tempered glass tabletop with a wooden frame. Thanks to the lift-top design, it is also versatile. You can adjust the tabletop's height for writing, using a laptop, or drinking.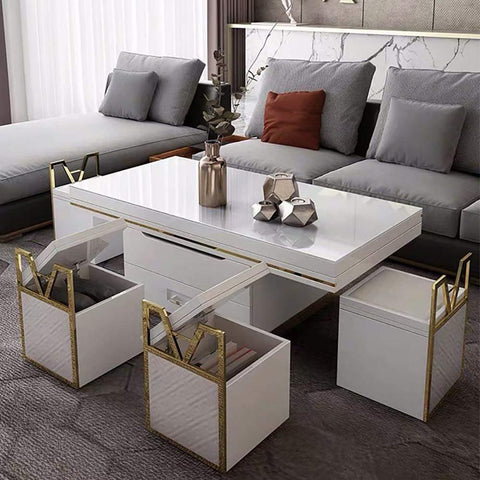 This liftable coffee table can be your perfect choice for space-saving. It has four stools that can be nested under the table. And there is hidden storage underneath the tabletop and inside the stools!
The all-white modern design will reflect your taste of style.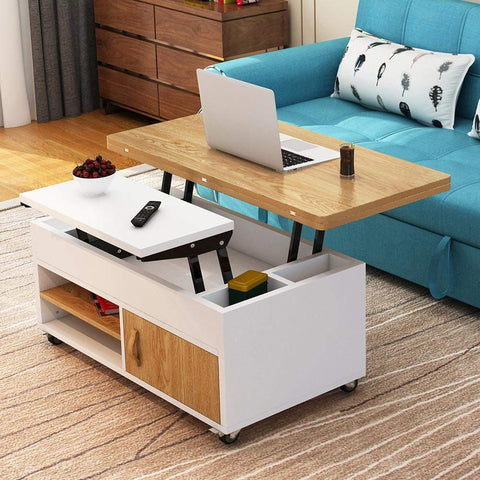 Creative and multifunctional, this 3-in-1 table can meet your needs of a coffee table, a desk, and a dining table. It includes several compartments underneath, so the table not only has a large tabletop but also ample storage.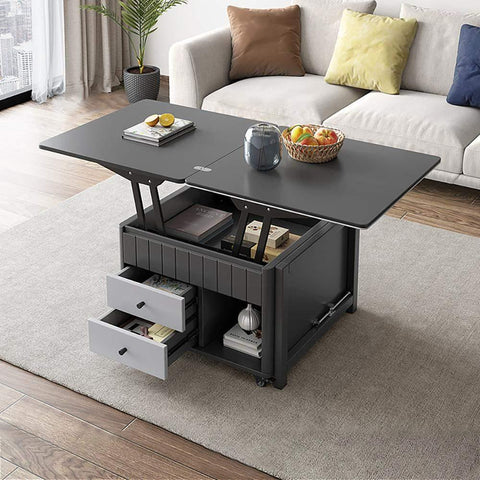 Employing a lift-top mechanism, you can effortlessly transform this coffee table can transform into a large dining table. It saves space while making your life convenient.
This foldable coffee table also has extra storage compartments and two drawers. It will be essential for organizing your daily objects.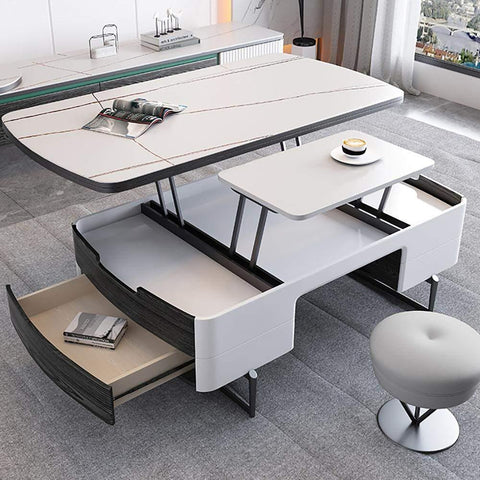 This 3-in-1 coffee table is stylish and multifunctional. You can extend its tabletop to make it a great dining table. It is especially handy with its big drawer and hidden storage.
Plus, its stone surface and carbon steel frame can uplift the style of your living room.
After reading this post, you might already have an idea of which multifunctional coffee table to buy. As you know more about their unique advantages, you can find one that fits your place the best.
Enjoy your new coffee table!